What is Alternative Care?
Children's Aid Societies are responsible for the safety and protection of children and youth.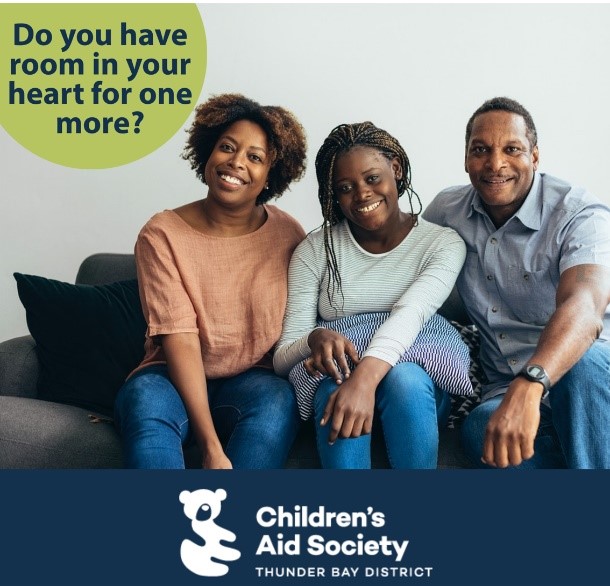 Sometimes parents can't provide proper care and support for their children even after receiving counseling and help. In such cases, for example, in times of family conflict or parental illness, or in situations of abuse or neglect, children may be placed in an alternative care arrangement. The Society's primary goal is to have children placed with kin as a first resort. Regular alternative care placements are considered should no kin be available and/or suitable. Regular alternative care families provide day-to-day care of a child in a family setting. These placements may last a matter of days, weeks or at times months.
Alternative Care Providers work with CAS staff as part of a team to develop a plan for each child in care. The plan is usually to reunite a child with their family. Where this is not possible, the plan may include legal custody, adoption or long-term foster care.
Who are the children and youth needing placements?
Children in care range from infants to youth as old as 21, and come from a variety of cultural, racial, ethnic and religious backgrounds.
Some children are in care voluntarily, while others are in care by court order. What all children have in common is that they are going through difficult times in their lives. They are often struggling with feelings of loss, separation and confusion. They need the help and support of Alternative Care Providers to keep them safe and provide for their needs.
Who can be Alternative Care Providers?
Alternative Care Providers may be experienced parents whose children have grown up, young couples raising their own children, older couples, same-sex couples, single people. Alternative Care Providers act as role models, teachers and nurturers, and serve as a supports to children's natural families. You can apply to become an Alternative Care Provider even if you don't have a specific background in childcare. Concern for young people, optimism, patience and consistency are essential qualities, along with the willingness to learn and take training courses. You must be committed to providing a safe and stable home for a child and be prepared for the challenges and the rewards.
We provide ongoing support to all caregivers and provide access to:
Resources for Information, Development, and Education (PRIDE) training
ARC training along with Trauma and the Beautiful Brain
Individual alternative care worker assigned to your home
Experienced alternative care/resource worker support
Casual and Therapeutic SPRING Staff Support
Education Liaison; Bookwork; and Reading Programs
Foster Family Association (FFA)
After-Hours support Phone Line
Structured Analysis Family Evaluation (SAFE)
… and more!
How long does the assessment process take?
The assessment process usually takes four to six months but can extend beyond this. How soon a child is placed with you after your application approval depends on the children you have decided to care for. For example, if you are willing or able to care for teens, siblings or children with special needs, a child will be placed with you more quickly.
Learn more by RSVPing for the Next Orientation Session: ACinquiries@thunderbaycas.ca / (800) 465-3905.