Home
What's New
Team Unbreakable
Team Unbreakable Thunder Bay receives a check from "100 People Who Care in Thunder Bay" for $2,300 for Team Unbreakable Run Program. This program is a mood based, learn to run, barrier free program hosted by The Children's Aid Society of the District of Thunder Bay.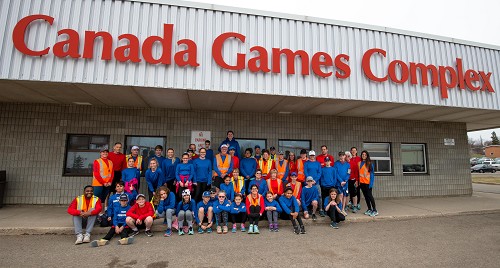 Sponsorship and Champions of the Program include:
Canadian Tire (Jump Start)
Children's Aid Foundation
City of Thunder Bay (Canada Games Complex & Youth Zone)
Fort William Rotary
100 People Who Care in Thunder Bay
Port Arthur Rotary and most recently
Thunder Bay District Health Unit – Healthy Kids
100 People Who Care, Founder- Michael Nitz attended the Children's Aid Society to present the program with their groups donation of $2,300.
In picture attending were:
Brad Bain, Executive Director CAS
Charmaine Cades, Manager Volunteer Program CAS
2 Team Unbreakable program participants (Preston and Scott) along with their parents Catherine and Sandra
Run coaches Cathy Michaliuk and Quinn Leschuk (and Mom Allison).
"This donation will go directly to supporting children in the community to participate in this barrier free, 13 week - Learn to Run Program" said Children's Aid Society of the District of Thunder Bay Executive Director, Brad Bain. Charmaine Cades added "it'll be great to have breathable team shirts for all runners and coaches, which this funding will allow us to do! We are so fortunate to have such great community support to keep this program going".
The Team Unbreakable Learn to Run Program monitors mood of runners through journaling done twice weekly before and after each practice. It is very apparent from the journals that the participant's mood is elevated after they run. All the good endorphins the body is producing ensures that!! Succeeding at goals that were thought to be unattainable is a real boost to self-confidence and moral as well.
Quinn, a previous program participant, now "junior volunteer coach" with Team Unbreakable, says "he and all the coaches donate their time to coach the runners because it's a great program. I came back this year as a junior coach! I know and saw the benefits personally after graduating from the program last year. I'm proud of the runners, they did great at this year's culminating race – the June Classic, hosted by local running group Meter Eaters."
---
Rotary Club of Thunder Bay (Fort William)
Canadian Tire - Jump Start
http://jumpstart.canadiantire.ca/en.html
Rotary Club of Thunder Bay (Port Arthur)
Children's Aid Society of the District of Thunder Bay Foundation
https://www.thunderbaycas.ca/article/childrens-aid-foundation-6.asp
City of Thunder Bay, Canada Games Complex
http://www.thunderbay.ca/Living/recreation_and_parks/Facilities/Canada_Games_Complex.htm
City of Thunder Bay, Youth Zone
http://www.thunderbay.ca/Living/recreation_and_parks/Part-time_Jobs/Youth_Zone.htm
Thunder Bay District Health Unit - Healthy Kids
http://www.healthykidstbay.com/
Logo attached
100 People Who Care in Thunder Bay –