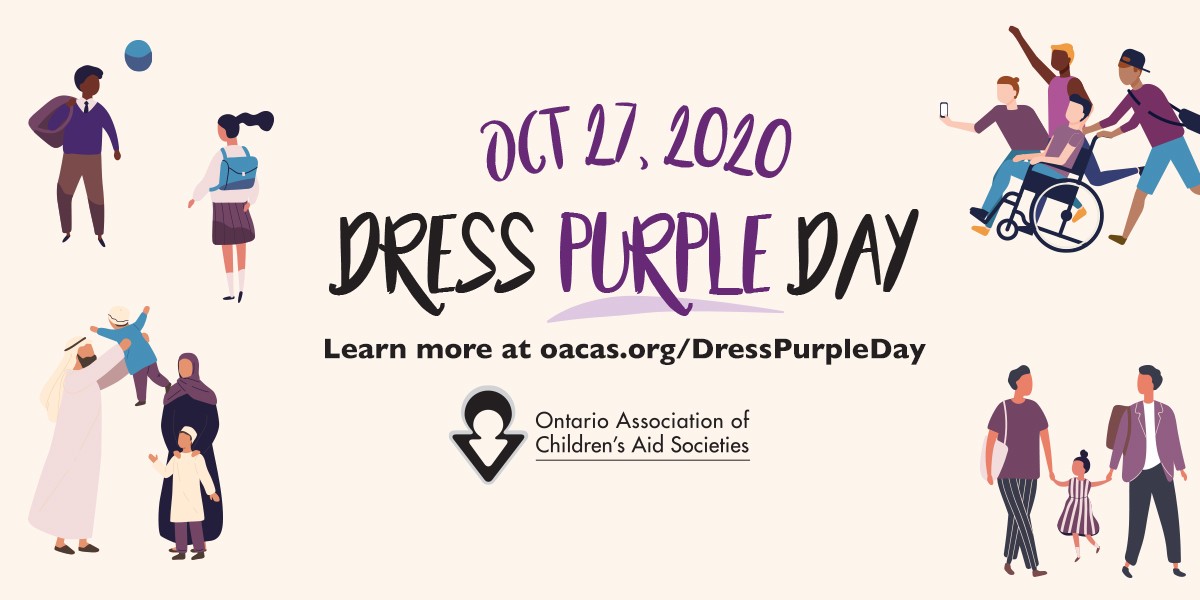 About the Dress Purple Day Campaign
Every October,Children's Aid Societies across the province raise awarenessabout the important role that individuals and communities play in supporting vulnerable children, youth, and familiesthrough the provincial Dress Purple Day campaign. The campaign is more important than ever, sincethe COVID-19 pandemic has created additional stressors for families, and in some cases has increased risk for the well-being and safety of vulnerable children, youth.
We are calling on all Ontarians to wear something purple on October 27 to show children, youth, and families that they are here to help!
#IDressPurpleBecause Videos
In the lead-upto Dress Purple Day, we're inviting all Ontariansto createand post a video explaining why they will be wearing purple on October 27 and how it is they help children, youth, and familiesfacing challenges. Maybe you work for an organization that supports youth, maybe you're a frontline worker in the social services sector, or maybe you're a member of your community who checks in with a neighborhood family whoneeds extra support...we all have a role to play!
Suggested Script Sequence
Introduce yourself

(

na

me, title

,

and

organization

[if applicable]

).

Begin with

"

On October 27, I dress purple..."

and your reason

for supporting the

campaign

.

Explain

how

you support families in your com

munity

.

Encourage others to join you

in dressing purple

on October 27

.
Sample Scripts
If you

work for

a

social

service

or community

organization

, use our sample script

here

.

If you're a politician or

government partner

, use our sample script

here

.

If you're a

member of the

community, use our sample script

here

.
Sharing Your Video
Share your

video on

any

social media

channel

any

time after October 1

using

one of

the

social media

messages below

.

Use the hashtag #IDressPurpleBecause

.

...

And Don't Forget to Show Us Your Purple on October

27

!

Post a pic on social of you all decked out in

purple on October 27 and use t

he hashtag

#DressPurpleDay2020
Social Media Messages
Twitter/ Instagram
On #DressPurpleDay2020, Ontario Children's Aid Societies raise awareness about the role that individuals and communities play in supporting vulnerable children, youth, and families. Today I'm sharing why I dress purple. [video link] Join me Oct 27! #IDressPurpleBecause

#DressPurpleDay2020 is a chance for [organization name]to show our support for the vulnerable children, youth, and familiesin Ontario. On October 27,wewill dress purple. Here's why: [video link] #IDressPurpleBecause

At [organization name], our mission is to support vulnerable children, youth, and families in our community. That's why wewill dress purple on October 27 for #DressPurpleDay2020. Find out more [video link] and join us! #IDressPurpleBecause

I'm here to help the children, youth, and families facing challenges in my community. That's why I dress purple on October 27 for #DressPurpleDay2020. Find out more: [video link] and join me! #IDressPurpleBecause

I'm showing up for the vulnerable children, youth, and families on October 27 by dressing purpleand letting them know I'm here to helpand they are not alone. Find out more [video] and join mefor #DressPurpleDay2020. #IDressPurpleBecause
Facebook
We will dress purple on October 27 to show support for Ontario families. Will you? [organization name] is joining this year's Dress Purple Day campaign to raise awareness that we all have a role to play in supportingthe children, youth, and families in our community who are facing challenges. Our Executive Director [or other relevant title] is sharing why they're dressingpurple on October 27. Watch it [video link] and learn more about the campaign www.oacas.org/dresspurpleday/
We all have a role to play in supporting vulnerable children, youth, and families in Ontario. On October 27, [organization name]will be dressing purple to show our support for the children, youth, and families in our community facing challenges. Find out why wedress purple [video link] and jointhe Dress Purple Day campaign to show your friends, family, neighbours and community that you are available to help.Learn more www.oacas.org/dresspurpleday/
I'm joining the 2020 Dress Purple Day campaign! Are you? On October 27 I will be wearing purple to show my support for the vulnerable children, youth, and families in mycommunity. Find out why I dress purplehere[video link] and jointhe Dress Purple Day campaignto make sure your friends, family, neighbours and community know that you are available to help.Learn more: www.oacas.org/dresspurpleday/
This Dress Purple Day we remind families that help is available and no one is alone. Dress Purple Dayis an opportunity to make surefamilies, especially those facing additional hardships during COVID-19, know thatthere are resources and services available to help them. On October 27, we will dress purpleto remind them we are one of those places families can turn to for help. Find out more about our participation [video link] and the campaign www.oacas.org/dresspurpleday/